As with any denture, the patient should expect a period of adapting to the denture including learning to wear, eat and speak with them. Of course, there may also be adjustments that are needed.

Cu-Sil dentures utilize an elastic gasket (the Cu-Sil) that surrounds the supporting teeth of a partial denture for retention of the prosthesis. It is often used with periodontally involved teeth that are loose, mobile and poor candidates for conventional clasps. Sometimes, however, this type of retention may be the only option for very questionable teeth if you are trying to retain a partial denture and postpone a full denture.

Because the teeth used for Cu-Sil retention are questionable, they may become hopeless and require extraction. Denture teeth can then be added to the denture; however, obviously when this is done, the partial becomes less secure and closer to being converted to a complete denture.

The Cu-Sil itself may be somewhat difficult to maintain and keep clean, may cause some gum irritation, and may have to be periodically replaced. Also according to the manufacturer specific cleaning products must be used to avoid deterioration of the Cu-Sil.

Continue Learning about Dentures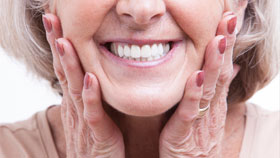 Dentures are false teeth used to replace natural teeth. There are two types of dentures: complete dentures, which can be used for the upper or lower jaw (or both if needed), and partial dentures, which replace only some teeth.