Because an overdenture involves not just the surface tissue but also the associated teeth, it requires very fastidious care to limit the disease causing germs. The denture must be soaked in a denture cleaner for a minimum of 8 hours per day. Our studies have shown that such a regimen has the most beneficial results in keeping the disease causing germs at bay. Dr. G.
I recommend seeing your dentist every six months to examine your mouth and clean the denture and remaining teeth/implants supporting the overdenture. Over time, the attachments to the overdenture may become loose and need to be replaced to maintain a secure fit for the denture.
Continue Learning about Dentures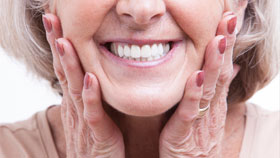 Dentures are false teeth used to replace natural teeth. There are two types of dentures: complete dentures, which can be used for the upper or lower jaw (or both if needed), and partial dentures, which replace only some teeth.