After a few months, you will notice that your immediate denture may become loose. That happens because the gums shrink as the bone heals. To secure the denture, a reline or rebase may be needed. In some cases, a new denture should be made, with the immediate denture used as a spare. Dental implants can also be used to help improve the fit and comfort of a denture.
Continue Learning about Dentures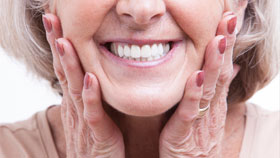 Dentures are false teeth used to replace natural teeth. There are two types of dentures: complete dentures, which can be used for the upper or lower jaw (or both if needed), and partial dentures, which replace only some teeth.