Overdentures can be made for you by your general dentist or by a prosthodontist, a dentist who has special training in making dentures.

Any root canal work you need before you get your overdentures can be done by your general dentist or by an endodontist, a dentist who specializes in root canals.

Continue Learning about Dentures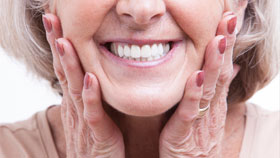 Dentures are false teeth used to replace natural teeth. There are two types of dentures: complete dentures, which can be used for the upper or lower jaw (or both if needed), and partial dentures, which replace only some teeth.