Implant retained dentures will most commonly be provided by a general dentist or a dental specialist called a prosthodontist. Surgical placement of implants is usually done by an oral surgeon, periodontist, or a general dentist.
Continue Learning about Dentures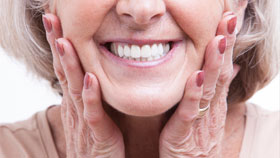 Dentures are false teeth used to replace natural teeth. There are two types of dentures: complete dentures, which can be used for the upper or lower jaw (or both if needed), and partial dentures, which replace only some teeth.