Usually a dentist who provides denture services will fabricate Cu-sil dentures when indicated. That being said, if a dentist is not satisfied with a given material or technique, he or she may not offer it as an alternative.

Cu-Sil dentures utilize an elastic gasket (the Cu-Sil) that surrounds the supporting teeth of a partial denture for retention of the prosthesis. It is often used with periodontally involved teeth that are loose, mobile and poor candidates for conventional clasps.

The Cu-Sil itself may be somewhat difficult to maintain and keep clean, may cause some gum irritation, and may have to be periodically replaced. Also according to the manufacturer specific cleaning products must be used to avoid deterioration of the Cu-Sil.

Continue Learning about Dentures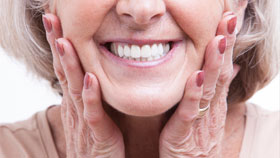 Dentures are false teeth used to replace natural teeth. There are two types of dentures: complete dentures, which can be used for the upper or lower jaw (or both if needed), and partial dentures, which replace only some teeth.