Other than the same complications as having implants placed, there are no additional complications. In fact there may be fewer sore spots than with regular dentures and the dentures are more stable. It is easier to function with the implant retained dentures.
Continue Learning about Dentures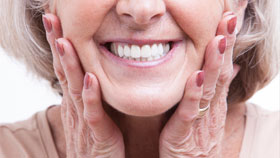 Dentures are false teeth used to replace natural teeth. There are two types of dentures: complete dentures, which can be used for the upper or lower jaw (or both if needed), and partial dentures, which replace only some teeth.