The care of a Cu-sil denture is somewhat different from a conventional denture or partial denture because of the elastomeric gaskets used for retention. The manufacturer recommends specific cleaners for this type of material. Information can be found on the Cu-sil website.

Also you must be very careful in handling to Cu-sil material to avoid damaging it. If it is damaged, it may become less retentive and also cause gingival inflammation and irritation.
As with any partial denture, I recommend seeing your dentist every six months for a check-up and dental cleaning. The Cu-Sil is used for teeth that are loose or broken down, so these teeth often need to be removed over time and can be added to the partial denture.
Continue Learning about Dentures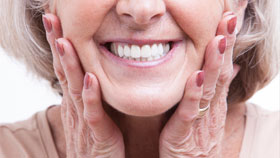 Dentures are false teeth used to replace natural teeth. There are two types of dentures: complete dentures, which can be used for the upper or lower jaw (or both if needed), and partial dentures, which replace only some teeth.