Implant retained dentures are much like conventional dentures but have some type of attachment that allows them to be held in place on 2 or more dental implants. One of the simplest examples would be a lower denture over 2 implants that have ball type heads that fit into a plastic fitting in the denture which snaps onto the ball head. These attachments allow the denture to be held in place much more securely but still be removed for cleaning and adjustments. More implants will give more stability and retention. This is only one type of attachment, but most are some variant of this, your dentist would be able to recommend the most suitable treatment for your individual situation.
Continue Learning about Dentures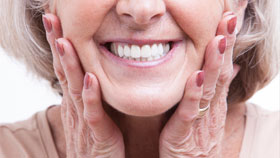 Dentures are false teeth used to replace natural teeth. There are two types of dentures: complete dentures, which can be used for the upper or lower jaw (or both if needed), and partial dentures, which replace only some teeth.