Immediate dentures are a removable denture that is inserted on the same day that the remaining teeth are removed. Your dentist will take measurements and make models of your jaw during a preliminary visit. You don't have to be without teeth during the healing period, but may need to have the denture relined or remade after your jaw has healed.
Immediate dentures are dentures that are placed immediately after having teeth pulled. This requires planning in advance with a dentist. Generally, impressions are made prior to the teeth being pulled and a shade, size, and shape of the teeth are selected. A dental laboratory makes the denture. After the teeth are pulled, the denture is inserted. This is a solution for patients who do not want to go without teeth. However, the disadvantage is that the denture cannot be tried in in advance. Immediate dentures should be considered temporary dentures. After healing from having the teeth pulled a reline or new denture can be made.
Immediate dentures are made to be put in the same day the remaining teeth are extracted. The biggest advantage is that the patient does not need to go without teeth while the denture is being made. The disadvantage is that the inside of the immediate denture is an estimate of what the bone might look like after the teeth are removed. After the bone heals the immediate denture will either need to be relined to fit or possibly replaced with one that will fit the actual bone shape.
Immediate dentures are inserted immediately after the removal of teeth that have been treatment planned for extraction. An immediate denture may either be a complete denture or partial denture. The advantage of immediate insertion is for cosmetics and function during the period of healing. The denture may act as a splint to minimize swelling and control bleeding. Of course, as healing occurs adjustments may be required, and often a reline is necessary to fit the denture to the healed ridge (gum).

Frequently back teeth may be extracted first and the areas are then allowed to heal prior to taking the impression for an immediate denture. In this way the denture may be more stable due to the healed back supporting areas of the ridge.

When an immediate denture is not performed there is often a 6-8 week period of healing following the extractions prior to beginning the process of making a conventional denture.
Immediate dentures are one of two types of complete dentures. Like all complete dentures, immediate dentures cover the entire upper jaw, lower jaw, or both. However, unlike other types of complete dentures that can't be inserted until any remaining teeth are removed and gums are completely healed, immediate dentures may be used right away after surgery. When your dentist surgically removes any remaining natural teeth, he will fit your mouth with an immediate denture. These dentures will have to be re-adjusted once your mouth heals. In the meantime, immediate dentures can help you eat and speak while your gums are healing.
Continue Learning about Dentures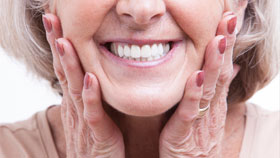 Dentures are false teeth used to replace natural teeth. There are two types of dentures: complete dentures, which can be used for the upper or lower jaw (or both if needed), and partial dentures, which replace only some teeth.