Dentures need to be checked and evaluated periodically by a dentist. Ill-fitting dentures can cause sores to form in your mouth. If they are loose, you may have difficulty eating and talking. Over time and as the teeth wear, your bite may change. This could cause pain in your jaw joints (TMJ) from the teeth not coming together properly. Your dentist can advise you as to what treatments can help resolve these issues such as a reline, rebase, or new denture.
Like natural teeth, dentures can cause problems if they're not cared for properly. If dentures aren't cleaned properly every day, plaque can build up on them and cause staining, bad breath, and irritation in your mouth. If your dentures don't fit properly, they may cause irritation to your gums and mouth, and they may interfere with speech and eating. Ill-fitting dentures can also lead to mouth sores, infections, and other health problems. Because of this, it's important to see your dentist regularly to make sure dentures still fit well and are being properly cleaned.
Continue Learning about Dentures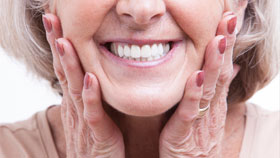 Dentures are false teeth used to replace natural teeth. There are two types of dentures: complete dentures, which can be used for the upper or lower jaw (or both if needed), and partial dentures, which replace only some teeth.