A silver dental filling is one of the more popular types of fillings. Silver fillings, also known as amalgam fillings, are a combination of several metals and are commonly used in the back teeth. They are strong and are usually less expensive than the other types of fillings. The other common type of filling is a composite filling, which is a tooth-colored product made from a mixture of acrylic resin and powdered particles that are like glass. Dentists use composite fillings in both front and back teeth, because they're durable and they can be made to match the other teeth.

Like silver, gold alloy fillings are also made with several metals and have excellent durability. They don't match tooth color either. Porcelain, also known as ceramic fillings, can match tooth color, but are not as good for molars because they can crack under pressure. They also are more expensive and need at least two appointments to complete.
Continue Learning about Dentures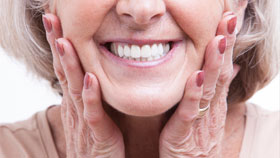 Dentures are false teeth used to replace natural teeth. There are two types of dentures: complete dentures, which can be used for the upper or lower jaw (or both if needed), and partial dentures, which replace only some teeth.