Overdentures are dentures that go over retained roots. The roots may have attachments in them that will help hold dentures in place.

The retained roots usually have had root canals and help preserve the bone.

They are more common in the lower jaw than the upper jaw.

Dentures go over the gums and there are no teeth left.
Continue Learning about Dentures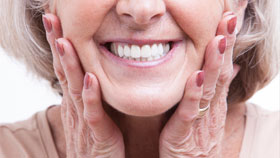 Dentures are false teeth used to replace natural teeth. There are two types of dentures: complete dentures, which can be used for the upper or lower jaw (or both if needed), and partial dentures, which replace only some teeth.