If you are unable to wear a denture without them.
Some of the conditions that can make it difficult to wear a denture (and therefore implants can help) are:
dry mouth
very thin bone that doesn't support the denture (speed bump vs pencil)
bone that is too short (no height where the denture can grab)
a tongue that keeps kicking the denture out
can't tolerate having the palate (roof of the mouth) covered
Continue Learning about Dentures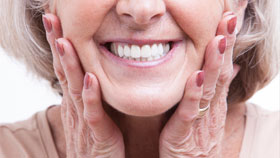 Dentures are false teeth used to replace natural teeth. There are two types of dentures: complete dentures, which can be used for the upper or lower jaw (or both if needed), and partial dentures, which replace only some teeth.