After complete examination, radiographs and treatment plan and financial arrangements, an appointment is scheduled for impressions. Impressions are made, along with tooth and shade selection. The measurements for the bite may be taken at the impression appointment or at a separate visit. When these procedures have been completed, the case is sent to the lab for set-up for your evaluation.

At the try-in appointment, you will be able to see the actual teeth set-up for try-in in your mouth. This is the time to check the teeth, the shade and the bite. When all is satisfactory the case is returned to the lab for completion and addition of Cu-sil gaskets.

At this point there is an appointment for denture fitting and delivery. Depending on the complexity of the case and whether changes have to be made and another try-in scheduled, the Cu-sil denture may take from 3-6 weeks to complete.
Continue Learning about Dentures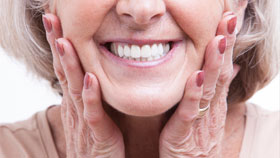 Dentures are false teeth used to replace natural teeth. There are two types of dentures: complete dentures, which can be used for the upper or lower jaw (or both if needed), and partial dentures, which replace only some teeth.