Implant retained dentures are more retentive than regular dentures. Implant retained dentures are attached to implants in the jaw bone. They may be removable with clips or snaps that hold them into place or they may be fixed in the mouth with screws that attach them to the dental implants. Regular dentures rely on the tissues and suction to hold them in place. Individuals having problems with regular dentures may want to consider implant retained dentures as they will stay in better and are more like natural teeth. See your dentist if you are interested in implants and dentures.
Traditional dentures are supported by properly fitting on top of your edentulous arches (upper or lower arches). However, the implant dentures have additional retention form the attachments to the implants themselves. This additional retention makes implant dentures more stable and comfortable, since they can't be dislodged as easily. Esthetically, they both look alike. The implant dentures also have the additional advantage of preserving your bone around the implants.
If traditional dentures and implant retained dentures were sitting on a countertop, teeth side up, they would look identical! The difference would be revealed when the dentures were flipped over, looking at the underside of the dentures. The implant retained dentures would have some metal or plastic "clips" to engage the implants. This attachment of the denture to the implants provides increased stability for chewing and security that the denture will stay in the mouth, where it belongs!
In spite of the best efforts of the dentist and laboratory, satisfaction cannot be guaranteed with the fit and function of previously loose dentures, particularly if you have extensive bone and gum tissue loss. At this stage it may be best to consider any reline option temporary. This is the reason why dental implants are generally the best, if not only, option for long-term denture wearers with extremely loose fitting dentures. The beauty of implants is that they stop the resorptive process by actually stabilizing the bone to prevent further loss.

A new denture, particularly a lower one, can be successfully supported by implants. There are a number of options including two implants (the minimum) that can provide stability for a denture. And because you will not need every tooth replaced by an implant, the cost is not as great as you may think. In fact, many people find implants to be a feasible and realistic solution once they compare the ongoing maintenance and discomfort of ill-fitting dentures to the cost and benefit implants provide with many years of successful and stable denture wear.

Improved function, biting, chewing, talking, and smiling will provide you with improved self-confidence and well-being with relined, renewed dentures or implant supported dentures.
Implant retained dentures are almost always better fitting and more comfortable and functional than regular dentures. This is especially true if the jawbone (or ridge) is flat and does not support the dentures well. I recommend the locator abutments for implant retained dentures.
Continue Learning about Dentures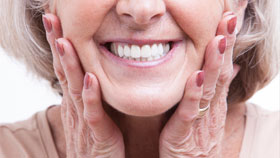 Dentures are false teeth used to replace natural teeth. There are two types of dentures: complete dentures, which can be used for the upper or lower jaw (or both if needed), and partial dentures, which replace only some teeth.