They will be more expensive than regular dentures and the cost will vary depending upon where you live and the amount of education and experience the dentist has with making them.

The benefits are that the dentures are more stable and function more like a person's own teeth than unsupported dentures.
Continue Learning about Dentures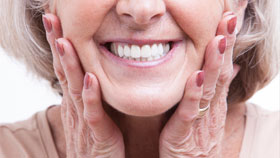 Dentures are false teeth used to replace natural teeth. There are two types of dentures: complete dentures, which can be used for the upper or lower jaw (or both if needed), and partial dentures, which replace only some teeth.