Cu-Sil is a trademarked material that is different from conventional denture acrylic in that it has more flexibility. Only authorized dental laboratories can make these dentures, which are made without metal clasps. A dentist should determine if this is an appropriate prosthesis for a specific patient.
Continue Learning about Dentures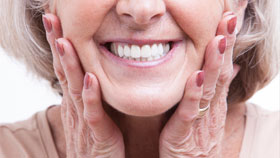 Dentures are false teeth used to replace natural teeth. There are two types of dentures: complete dentures, which can be used for the upper or lower jaw (or both if needed), and partial dentures, which replace only some teeth.