Cu-Sil retained partial dentures are usually used for periodontally compromised teeth that are important for retention of a partial denture.

While Cu-Sil dentures may be a good choice in some situations, implant retained dentures can be a more secure and better choice in that the questionable teeth are removed (eliminating potential infections) and the denture can be more stable and therefore function better.
Cu-Sil partial dentures are not that common. These days, a conventional partial denture, made of either acrylic or nylon, is more common and implants are frequently used to help stabilize full dentures when the support of the jaw is lacking. Still, in some cases, a Cu-Sil partial denture is an acceptable option.
Continue Learning about Dentures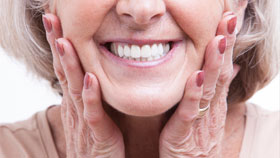 Dentures are false teeth used to replace natural teeth. There are two types of dentures: complete dentures, which can be used for the upper or lower jaw (or both if needed), and partial dentures, which replace only some teeth.