Placement of immediate dentures is not an uncommon procedure. If, unfortunately, a patient has remaining natural teeth that require extraction, then an immediate denture may be a good option.

The remaining back teeth are usually removed first, and then the supporting ridges in the back are allowed to heal for several weeks. This will create healed supporting areas for the immediate denture.

Impressions are taken with the remaining front teeth in place. The posterior (back) denture teeth are set-up in wax to try in the patient's mouth. The front denture teeth are set up for patient evaluation on the dental articulator, the lab device that replicates the patients jaw position. Because the patient's natural front teeth are still in the mouth, the front denture teeth cannot be tried in the mouth prior to insertion of the immediate denture. Upon approval of the patient the denture is completed.

At the next appointment the patient is anesthetized, the remaining teeth are removed, and the IMMEDIATE denture is immediately inserted. In this way the patient leaves with teeth in the mouth and does not have to wait several weeks for healing to take place prior to starting with impressions.


Immediate dentures are a common type of denture, because the wearer does not have to be without teeth during the healing period.

Immediate dentures are inserted immediately after the removal of the remaining teeth. To make this possible, the dentist takes measurements and makes the models of the patient's jaws during a preliminary visit.
Immediate dentures are very common for patients who are having their upper teeth removed. Most of us do not want to go any length of time without upper front teeth! Some patients will also want a lower immediate denture, while others are OK with not having any teeth on the bottom during the healing phase.
Continue Learning about Dentures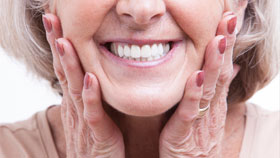 Dentures are false teeth used to replace natural teeth. There are two types of dentures: complete dentures, which can be used for the upper or lower jaw (or both if needed), and partial dentures, which replace only some teeth.