Most insurance plans will cover the denture. Of course, how much of the cost of a denture will vary from plan to plan. The way most insurance plans are structured, preventive and diagnostic services are covered at a higher percentage; prosthetic services like dentures are not covered as well.

As far as the implants and attachments needed in an overdenture, until a couple of years ago the answer to your question was a flat "no". But gradually I see patients coming in with insurance plans that pay a benefit for implant fixtures, abutments and attachments. My sense is that as of the time I'm writing (August 2011) most plans will still not cover implant dentistry.

When you get down to just how much help you will get from your insurance company, the picture is not very good. Many of the plans that have included implant-related treatments or overdenture attachments still have yearly maximum benefits of $1000 or $1500 per year. This of course makes coverage for these services less useful than it may appear.

You should speak to your dentist who works with insurance plans on a daily basis, or to your benefits manager if there is one where you get your insurance coverage, and see just how much help your insurance will give you with affording overdentures.

Continue Learning about Dentures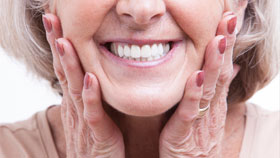 Dentures are false teeth used to replace natural teeth. There are two types of dentures: complete dentures, which can be used for the upper or lower jaw (or both if needed), and partial dentures, which replace only some teeth.