Yes, no and maybe.

Some insurance plans cover dentures at the benefit level they allow for major services and prosthetics. There may be a deductible and copay with the amount determined by the insurance contract. Some plans do not cover major services at all. In addition, benefits may be limited, or not available at all, depending on annual maximum and plan limitations, such as frequency of service and if the denture has been lost or broken.

As with many dental services when you have a dental plan, it is often best to predetermine treatment for an estimate of your out-of-pocket costs.
Continue Learning about Dentures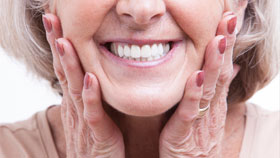 Dentures are false teeth used to replace natural teeth. There are two types of dentures: complete dentures, which can be used for the upper or lower jaw (or both if needed), and partial dentures, which replace only some teeth.