It is possible that some popular brands of denture adhesive that contain zinc can cause neurological problems if over-used. Multiple applications of denture adhesive every day and the ingestion of the adhesive can cause an over-dose of zinc that has the potential for neurological problems. Dentures should be well-fitting and the use of adhesive should be optional or not needed at all. Loose dentures should be evaluated by your dentist and be relined, rebased or remade.
Continue Learning about Dentures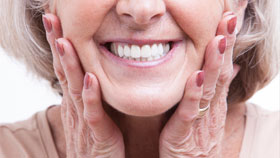 Dentures are false teeth used to replace natural teeth. There are two types of dentures: complete dentures, which can be used for the upper or lower jaw (or both if needed), and partial dentures, which replace only some teeth.