Caring for your mouth is just as important when you have dentures as it is when you have all your natural teeth. Obviously, daily oral care will include cleaning your dentures by gently brushing them and storing them in water or cleansing solution. However, even with complete dentures, you should still clean your mouth, too. Brush your gums and tongue using regular toothpaste and a soft toothbrush at least once or twice a day. This will help keep your mouth clean.
Continue Learning about Dentures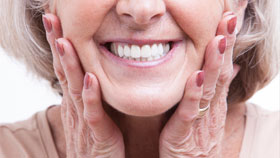 Dentures are false teeth used to replace natural teeth. There are two types of dentures: complete dentures, which can be used for the upper or lower jaw (or both if needed), and partial dentures, which replace only some teeth.