Yes, especially if the teeth are infected or loose. If the situation is not urgent, you might consider waiting until after delivery. You will need to have your dentist check with your OB/GYN to see if local anesthetic with epinephrine can be used and what medications are allowed.
Continue Learning about Dentures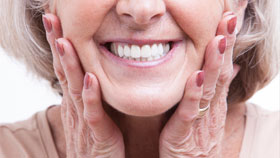 Dentures are false teeth used to replace natural teeth. There are two types of dentures: complete dentures, which can be used for the upper or lower jaw (or both if needed), and partial dentures, which replace only some teeth.