The following are things to consider when getting a veneer, a thin covering that is placed over the front (visible) part of the tooth:
Before a veneer is made, your teeth and gums must be healthy. Your dentist can treat any problems before your veneers are made.
There may be a period of adjustment, a few days to a week, to get used to the feel of your restored teeth.
Although veneers generally require little removal of tooth enamel, the process cannot be undone once the enamel is removed.
Patients who clench or grind their teeth are not good candidates for veneers because the thin veneers may chip or break. If you clench or grind, your dentist may suggest a plastic dental night guard to be worn while sleeping, which can help reduce stress on the teeth.
Veneers look like tooth enamel, and they can chip like real teeth. Avoid biting your fingernails and chewing on hard objects, such as pencils or ice.
Like any dental restoration, it is possible, over time and with wear, for veneers to come loose. In that case, new ones might be needed.
As with all your dental care, discuss all your expectations and treatment options with your dentist. Regular dental visits are a must for keeping your teeth and gums healthy.
Continue Learning about Dental Veneers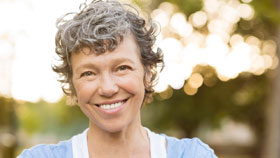 A veneer is a very thin porcelain shell that is bonded to your tooth to dramatically improve its appearance. Placed on top of your teeth, veneers can cover gaps in your teeth as well as stains or badly shaped or crooked teeth.