Veneers can be used to improve a wide variety of cosmetic dental problems. They
can whiten stained or discolored teeth, close gaps between teeth, "correct" a
crooked smile without the need for braces, repair chips and imperfections, and
create a more attractive or youthful looking smile.
Dental veneers cap a tooth's surface and can be used to fix medical problems such as tooth decay as well as to improve or enhance the look of your teeth. Made of porcelain or ceramic, dental veneers are most often used in elective dentistry, but like a crown, they can be used to cover up a decayed, discolored, or damaged tooth.
Continue Learning about Dental Veneers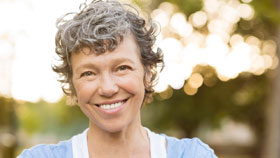 A veneer is a very thin porcelain shell that is bonded to your tooth to dramatically improve its appearance. Placed on top of your teeth, veneers can cover gaps in your teeth as well as stains or badly shaped or crooked teeth.