Since composite dental veneers will change the way you look, it's important to prepare by taking an active role in the design of your new smile. Discuss the effect you hope to achieve with your dentist, keeping in mind the limitations of the procedure. While composite dental veneers can cover up many imperfections, you will probably be able to detect slight variations in color. Most patients require up to three dental visits for the entire process: diagnosis and treatment planning, preparation, and bonding the veneers to your teeth.
Continue Learning about Dental Veneers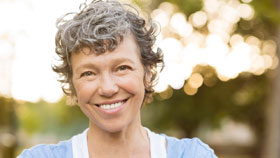 A veneer is a very thin porcelain shell that is bonded to your tooth to dramatically improve its appearance. Placed on top of your teeth, veneers can cover gaps in your teeth as well as stains or badly shaped or crooked teeth.