Porcelain veneers can be used to change the color, shape, and position of teeth. Teeth that have not responded to whitening can be lightened with veneers. Broken or malformed teeth can be restored to the proper tooth shape with veneers. Teeth that are slightly misaligned can be straightened with veneers. Your dentist can best advise you if you are a candidate for veneers.
A porcelain veneer can improve the appearance of a tooth that has become discolored or damaged. Porcelain veneers are very thin shells made of ceramic material. They are designed to match the color and shape of your natural teeth. A dentist uses a type of cement to attach a porcelain veneer to the outer surface of a tooth. Porcelain veneers are usually used on front teeth. If you have a discolored or chipped tooth that's spoiling your smile, a porcelain veneer may be an option for you.

Porcelain Laminate Veneers, or more simply called "veneers", are custom-made porcelain wafers a dentist places over the fronts of teeth to enhance their appearance or to repair damage. Veneers can change a person's smile dramatically and help to improve his or her self-confidence. In the 1920's and 1930's, actors and actresses would often go to the extreme of having their teeth extracted and dentures made to improve their smiles. Fortunately, this radical method has given way to veneers, which is a far more conservative approach. Now, those dazzling Hollywood movie smiles we see on the silver screen are typically veneers.

Veneers can be used to improve many cosmetic dental problems. They can whiten stained teeth; they can close gaps between teeth; they can "correct" a crooked smile without the need for braces; they can repair chips and imperfections; and they can create a more attractive or youthful looking smile.

Usually, the procedure involves removing a very thin amount of the outermost layer of the tooth (the enamel). The dentist will then take molds (impressions) of the mouth. Temporary veneers are put in place for the patient to wear while a laboratory makes the permanent veneers. The procedure usually takes less than two hours.

After about two weeks, the laboratory has carefully crafted the porcelain into veneers. The dentist now can fasten them to the fronts of the teeth. Not only does the porcelain improve the teeth's appearance, it also strengthens them.

The cost of the procedure largely depends on how many veneers are required for the desired results. In most cases, six veneers are needed at a minimum (usually for the upper six front teeth). Prices can vary, but an average fee for will run $7,000 ($500 to $900 dollars per tooth).
Continue Learning about Dental Veneers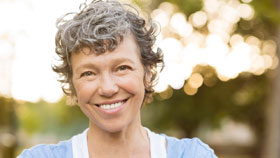 A veneer is a very thin porcelain shell that is bonded to your tooth to dramatically improve its appearance. Placed on top of your teeth, veneers can cover gaps in your teeth as well as stains or badly shaped or crooked teeth.