The official answer is "yes" -- as long as the child has all of their adult teeth in, veneers can be an option. But this is definitely something for parents to talk to their dentist about - since we have to take off some enamel, Veneers are a lifetime commitment -- they do not last forever, so as an adult, your child will almost certainly be back for maintenance. That is something to consider.
If a child has his or her permanent teeth, the dentist and parent can discuss whether composite dental veneers are a good option.
Continue Learning about Dental Veneers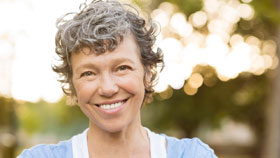 A veneer is a very thin porcelain shell that is bonded to your tooth to dramatically improve its appearance. Placed on top of your teeth, veneers can cover gaps in your teeth as well as stains or badly shaped or crooked teeth.