Dentures are an individual choice. Have you lost all of your teeth and you're unhappy with your smile? Unable to speak or chew easily? Unhappy with your smile and facial appearance? Then dentures may be a good option for you. Talk to your dentist to determine if dentures may be an option for you.
In an ideal world, nobody would need dentures.

When your teeth are badly decayed and not fixable, have advanced periodontal involvement and are infected, and when for any number of reasons you have elected not to undergo treatment that could save some or all of your teeth, then extractions are necessary and complete dentures are indicated for esthetics, function and your health.
When some teeth can be saved, you may be able to avoid or postpone getting a full denture. In this case a partial denture may be a better option than a complete denture.
Individuals without teeth or who are going to be losing their teeth are candidates for dentures. Dentures replace missing teeth. Dentures help restore your appearance after the loss of teeth. Dentures also help with speech and eating. Your dentist can best advise you if dentures could help you.
Dentures are for replacing missing teeth to provide a better ability to chew food and support the jaws. Dentures can replace one tooth or a whole mouth. If someone has one tooth or all of their teeth missing or the teeth are in such poor condition they must be removed then that person needs dentures.
As commonly understood, anyone who is missing some or all of their natural teeth and are having difficulty, eating, speaking and/or feeling embarrassed in social situations will profit from wearing dentures. In a stricter sense, if a person is missing some (or even one) of their natural teeth they are candidates for tooth replacements which are a type of denture.

The question of need as opposed to want dentures should be considered. Many people don't want or feel the need for any type of tooth replacement denture. Replacing lost teeth will almost always universally benefit a patient, but if the patient doesn't want it or understand the need for it, then they may not elect to have a replacement made. Before a person can make an informed choice they should have a personalized examination and consultation with their dentist.
Dentures are used by people who are missing some or all of their natural teeth. People may lose teeth due to tooth decay, accidents or injury, or periodontal disease. Dentures may be used to fill in the space where one or a couple of teeth are missing, or they may be used to cover an entire jaw of missing teeth. If you're missing any or all of your teeth, talk to your dentist to determine whether dentures are right for you.
Continue Learning about Oral Health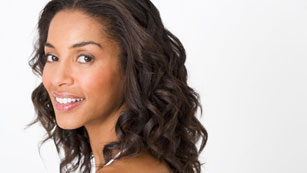 For good oral health, you need fluoride toothpaste, a soft-bristled toothbrush, floss, and an antiseptic or anti-microbial mouth rinse. The American Dental Association recommends brushing teeth at least twice daily with short back...
-and-forth motions, not vigorous scrubbing.
More