Some discomfort following the placement of a dental implant is normal, but most people should be able to return to work the next day following placement. The area may be tender or sore, so pain medication is usually prescribed to ease that discomfort. Your dentist may also recommend a diet of soft foods, cold foods and warm soup during the healing process.
Because dental implants are done in a same-day procedure, you can return to work the very next day. You may have some inflammation, swelling, irritation, or pain. Your dentist, periodontist, or oral surgeon may have provided you with a prescription for pain medicine with a nonsteroidal anti-inflammatory, like ibuprofen. This can help you get through the pain and swelling. If you have complications with surgery, such as an infection, ask your dentist when you should return to work.
Continue Learning about Dental Implant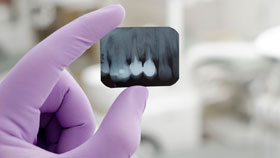 Dental implants are used where there are one or more missing teeth. Implants are posts that are surgically placed in the upper or lower jaw, where they may also function as a sturdy anchor for dentures. Because they fuse with your ...
jawbone, you will still have a certain amount of sensation when you chew and talk, even though you have an artificial tooth.
More