Dental implants are made up of titanium and other materials that are combatible with the human body.
Most dental implants are made of titanium, an extremely strong metal that has been found to integrate well with bone. This is because the body tends to accept the titanium and not reject it as a foreign object. So the titanium can be said to biologically bond with bone.
Continue Learning about Dental Implant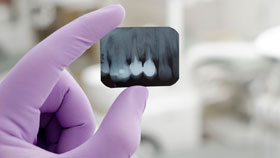 Dental implants are used where there are one or more missing teeth. Implants are posts that are surgically placed in the upper or lower jaw, where they may also function as a sturdy anchor for dentures. Because they fuse with your ...
jawbone, you will still have a certain amount of sensation when you chew and talk, even though you have an artificial tooth.
More