Your dentist may start a composite resin dental filling procedure by giving you local anesthesia to numb your tooth and the area around it. The dentist will drill out the area of the cavity to remove the decay. Some dentists use lasers or air abrasion instead of a drill. If your dentist is doing a direct filling, he or she will shape the composite resin into the tooth and "cure" or harden it with a blue light, after using an acid gel to "etch" the tooth so the bond will hold. If you're getting an indirect filling, the dentist will take a mold or impression and will send that to a laboratory to make the filling. You would then come back to have the filling set in with dental cement. The composite filling bonds to your tooth directly, which makes it stronger and holds the tooth together. To finish the procedure, your dentist polishes your tooth.

Continue Learning about Dental Fillings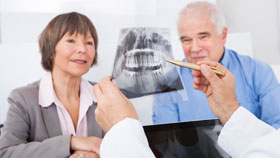 To stop a cavity from expanding and spreading decay, it is necessary to fill the hole with a filling. A dental filling, which may be placed with a variety of materials, such as silver, gold or resin, restores a fractured, chipped, ...
decayed and sometimes worn tooth.
More