A toothache may be serious if any of the following conditions develop:
If you notice symptoms such as fever or an earache, call your dentist or doctor, because an infection (such as an ear infection or sinus infection) could be the reason for your pain.
If your pain is severe and/or has lasted for at least a couple of days, contact your dentist. Severe or lasting pain suggests a cause that is not tooth decay but something more serious like an infection.
If you have swelling in your jaw or lymph nodes, you could have a tooth abscess (a collection of bacteria and dead tissue in your tooth), so call your dentist or doctor to prevent complications.
If you're finding that you can't seem to open or close your mouth normally, call your dentist. You could have an infection or a problem with your jaw joint.
If you are having a toothache along with symptoms of a heart attack (including chest pain or pressure, pain in one or both arms or shoulders, jaw pain, shortness of breath, or nausea), don't wait. Call 911 or get to an emergency room right away.
Continue Learning about Dental Emergency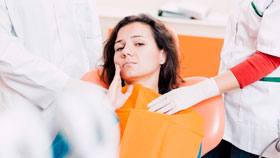 Dental emergencies vary, but they usually involve a broken tooth or some type of severe pain in your mouth. If you think you have a dental emergency, you should contact your dentist immediately. The sooner you take action, the mor...
e likely you are to keep the teeth involved.
More