Possible complications of a toothache may depend on the underlying cause of the toothache. For example, if the cause is tooth decay (the most likely reason for your sore tooth), possible complications include a tooth abscess, an infection of your gums or jaw or even brain, and loss of the tooth. In especially severe cases of toothache, you may end up eating less than usual, potentially leading to malnutrition and weight loss.

Continue Learning about Dental Emergency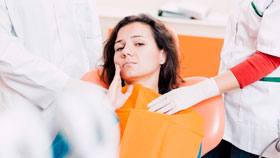 Dental emergencies vary, but they usually involve a broken tooth or some type of severe pain in your mouth. If you think you have a dental emergency, you should contact your dentist immediately. The sooner you take action, the mor...
e likely you are to keep the teeth involved.
More