Treatment for a cracked tooth depends on the severity of the damage. A small crack in a tooth can normally be repaired with smoothing or bonding. A crack in a tooth that is larger or deeper may increase the risk of a complete break to the tooth. In this case, you may need a crown to completely cover the tooth.

If a cracked tooth is more serious because the inside of the tooth has been damaged, a root canal may be necessary to clean out the damaged or diseased tissue from the inside of the tooth. Sometimes a very severely cracked tooth may need to be pulled (extracted). Your dentist will be able to examine your cracked tooth and give you all of the treatment options.
Continue Learning about Dental Emergency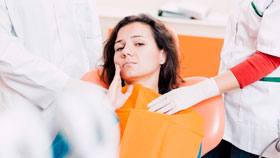 Dental emergencies vary, but they usually involve a broken tooth or some type of severe pain in your mouth. If you think you have a dental emergency, you should contact your dentist immediately. The sooner you take action, the mor...
e likely you are to keep the teeth involved.
More