If you don't seek immediate medical attention for a broken tooth, a host of problems can occur. If left untreated, a broken tooth can become infected. In some instances, the infection can spread to the head and neck and cause serious health problems. In rare cases, an untreated broken tooth may even become life-threatening.

Today there are many advances in pain management and a dentist can usually get rid of any pain you are experiencing quickly and safely. Avoiding the dentist when you have a broken tooth is an unwise choice, so make an appointment even if you aren't experiencing any symptoms from a broken tooth.

Continue Learning about Dental Emergency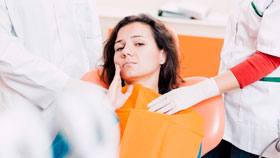 Dental emergencies vary, but they usually involve a broken tooth or some type of severe pain in your mouth. If you think you have a dental emergency, you should contact your dentist immediately. The sooner you take action, the mor...
e likely you are to keep the teeth involved.
More