Sometimes when the tooth is broken, complications may arise. Bacteria can make their way into the break and cause an infection, called an abscess. An abscess is a serious condition that needs to be treated right away.

If a baby tooth is broken, depending on the extent of the break, it could affect the permanent tooth spacing when it comes in.
Continue Learning about Dental Emergency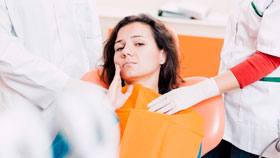 Dental emergencies vary, but they usually involve a broken tooth or some type of severe pain in your mouth. If you think you have a dental emergency, you should contact your dentist immediately. The sooner you take action, the mor...
e likely you are to keep the teeth involved.
More