Upper mouth pain can be caused by a number of medical issues from a toothache or sore throat to more serious illnesses such as cancer. Certain diseases and their treatments may also be an underlying cause of upper mouth pain. For example, people with human immunodeficiency virus (HIV) may find it painful to eat or swallow, and those who receive cancer treatment may develop mouth sores. It is best to check with your dentist or doctor about any prolonged pain in your mouth, because it could be related to other illnesses in your body.
Continue Learning about Dental Emergency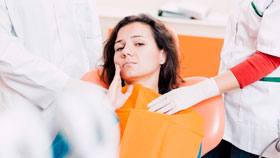 Dental emergencies vary, but they usually involve a broken tooth or some type of severe pain in your mouth. If you think you have a dental emergency, you should contact your dentist immediately. The sooner you take action, the mor...
e likely you are to keep the teeth involved.
More