How do I reduce complications after fixing a broken tooth?
Complications after the repair of a broken tooth depend on how you broke your tooth and what treatment your dentist recommends. You may experience pain or swelling due to the injury or the more serious dental work that your injury may require.

A broken tooth can result from biting down on something hard or having large cavities that weaken the tooth. More serious damage may also result from a fall or a sports-related injury. Complications such as pain or swelling may result from such a serious injury or from more extensive dental treatment needed to repair the damage. Talk to your dentist about any possible complications based on your specific injury and treatment plan.
Continue Learning about Dental Emergency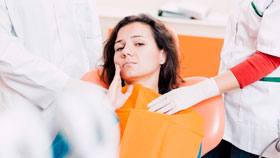 Dental emergencies vary, but they usually involve a broken tooth or some type of severe pain in your mouth. If you think you have a dental emergency, you should contact your dentist immediately. The sooner you take action, the mor...
e likely you are to keep the teeth involved.
More