The best way to prevent a broken tooth is to do the following:
avoid getting hit in the mouth
wear a mouthguard when involved in sports
avoid biting in extremely hard foods and objects
do not open bottles with your teeth
take good care of your teeth
have regular dental exams so that if fillings are necessary they can be kept as small as possible in order to keep the tooth as strong as possible
if a tooth is weak, or has an extremely large filling, consider having a crown placed to help prevent fracture
have a good diet that will does not promote decay
practice excellent home care to avoid decay and other dental problems
always take extra precaution when around swinging objects like bats, golf clubs, hammers, etc.
To prevent breaking a tooth, practice caution when playing sports, driving and eating.

When playing sports, especially contact sports, wear a mouth guard to avoid breaking your teeth. Every time you drive or ride in a car, put your children in car seats and wear your seatbelt to protect not only your teeth, but the rest of you, as well.

Even though hard candy might look delicious, be careful not to chew it. Also use caution when eating other hard foods, like raw carrots or candy apples.

Continue Learning about Dental Emergency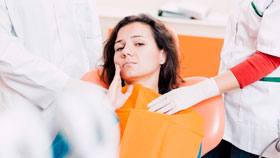 Dental emergencies vary, but they usually involve a broken tooth or some type of severe pain in your mouth. If you think you have a dental emergency, you should contact your dentist immediately. The sooner you take action, the mor...
e likely you are to keep the teeth involved.
More