Your dentist can help you understand how to care for a cracked tooth. If the cracked tooth is simply rough and irritating, your dentist can smooth that area or bond the crack to make it stronger.

If you have a cracked tooth that may not need treatment, be more careful with that tooth. Do not use it to chew or bite on hard objects or hard food because more pressure can make the crack worse. Daily brushing and flossing will help you take care of all of your teeth. Also, regular visits to your dentist will help monitor your teeth and make sure you do not have additional cracks or deeper cracks that need to be repaired.
Continue Learning about Dental Emergency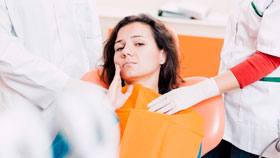 Dental emergencies vary, but they usually involve a broken tooth or some type of severe pain in your mouth. If you think you have a dental emergency, you should contact your dentist immediately. The sooner you take action, the mor...
e likely you are to keep the teeth involved.
More