How long does getting a dental crown take?
Getting a dental crown requires at least two visits to your dentist. That's because a mold is taken of the tooth or teeth during the first visit. From this mold, the crown is made, typically at an offsite dental lab. On the second visit, the crown is fitted to the tooth or teeth. Following visits may be needed if adjustments to the fitting are needed or you are having complications.
Getting a dental crown usually takes several steps and visits to your dentist. Before you get the crown itself placed over the tooth, you may need to have several things done. Your dentist may suggest a root canal if your tooth is severely decayed. He or she may need to build a foundation so that the crown has support, and then the tooth will need to be filed down so that the crown will fit over it correctly.

After these steps are done, you can start the two-visit crown placement process. In the first visit, impressions of the tooth will be made and sent out to the laboratory that will be making your permanent crown. Your dentist will probably also get impressions of the teeth around the tooth that will be crowned. This step helps to make sure that the permanent crown matches the alignment of your other teeth (also called your bite).

You will also get a temporary crown to wear just until your permanent one is ready.

Your second visit will happen when your permanent crown is ready for placement. Your dentist will do a final check to make sure it fits well and doesn't need any fine-tuning adjustments. Then he or she will cement the crown into place.

In some dental offices, the two-visit process can be shortened into one. These offices have special computers and computer programs (called Cerac or CAD-CAM) that allow the dentist to make a 3-D image of your tooth. The computer then makes a crown out of porcelain, and the dentist places it at that same visit. This type of crown procedure saves you a trip to the dentist, but doesn't allow for crowns made of materials such as metal or ceramic. Talk to your dentist about the best option for you.
Continue Learning about Dental Crown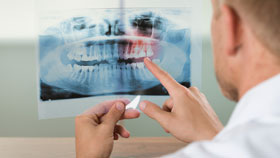 A dental crown is a covering that fits over your existing tooth to make it look and feel like a normal tooth. Crowns are often placed when a tooth is cracked or has lost its structure so that it can't hold a filling.