Fees for ceramic crowns are in the same range as porcelain to metal crowns. Esthetic changes and cosmetic considerations can certainly affect the cost of the service.

Fees for any dental service may vary depending on where you live or where your dentist is located (area of country, urban, suburban, center of town, etc.). In addition there are always going to be a range of fees for the same service. This may depend on the experience of the dental practitioner, materials used, esthetic demands of the procedure and complexity of the treatment or procedure.

The above factors certainly apply to ceramic crowns when cosmetic changes are an essential part of the reason for the treatment.

You may be able to find average fees for dental treatment in your area, but as with most other things just because a product or service may be the cheapest, does not necessarily mean it is the best. Also, you must feel confident in the dentist providing your care.
A dental crown is a relatively standard dental crown procedure in that the tooth has to be prepared in a similar way to restore normal form and function. However, there are other variables to consider.

One of the most important factors adding to cost is the quality of the crown itself. Another fact is that dentists generally sub-contract out crown manufacturing to a dental laboratory technician, as they rarely make crowns themselves. Besides, a dental technician is also an artisan, an expert trained in the art of making crowns among other laboratory procedures.

Many factors go into the fabrication of a superlative crown, the final result of a close working relationship between your dentist and the dental technician. How well they communicate with each other is key to making the most natural looking crown that will match your other front teeth.

Crown fabrication costs depend upon the materials used and the time needed to create them. For example, a crown made with higher quality porcelain (and sometimes with gold for added strength) results in a strong crown with the most life-like appearance. However, a large part of how a crown looks depends upon expertise and artistry. A plain white, uniform "Chiclet", versus a beautiful translucent replica of nature, requires different degrees of artistry, and better art tends to cost more. Some dentists will use different technicians for differing levels of quality work, which will be reflected in the final cost of the crown. So you can begin to understand why costs may vary.

And then there are the personal choices that you have prior to accepting a crown. For example, you need to voice your opinion in choosing your crown's color before it is made, and in reviewing the final product before it is permanently attached to your tooth. Prior to cementing or bonding a restoration such as a crown or veneer, be sure that the final product meets your expectations. Because crown aesthetics can be very subjective, their beauty is very much in the eyes of the beholder. Both your input and your dentist's professional guidance should come together in giving you the smile you want.

Every dentist has a responsibility to treat to the standard of care for a particular dental procedure or treatment. However, quality as described above can vary, although any crown placed should be adequate in that it fits the tooth properly and functions well.
Continue Learning about Dental Crown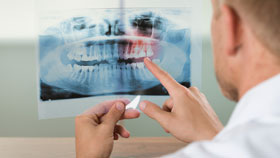 A dental crown is a covering that fits over your existing tooth to make it look and feel like a normal tooth. Crowns are often placed when a tooth is cracked or has lost its structure so that it can't hold a filling.