Dental crowns can look very natural and in some cases enhance appearance.

A crown can cover a tooth to help restore it to its normal shape and size and improve its appearance. A crown is a good way to cover teeth that are discolored or badly shaped. It's also used to cover a dental implant.

When many factors are considered they can look very natural. Some of these factors include shade, shape, contour and texture of porcelain, appearance in relation to other teeth, relation to gingiva and crown appearing to emerge naturally from gum tissue. All of these factors and more are important in creating a natural appearance of a crown.
Even when an all metal crown is advised and fabricated for a non-visible (to the public) back tooth, it must be shaped naturally to achieve normal function, gingival health and comfort.
Dental crowns are hand made in a laboratory using records your dentist takes during a visit with you. The resulting crowns can look very natural and difficult to distinguish from your own teeth. Modern techniques can even be utilized to add minor stains to resemble adjacent teeth.
Yes they can. Newer techniques and materials have improved the "life-like" appearance of crowns. In front teeth all porcelain crowns can be used and poreclain fused to a high gold alloy called Captek crowns greatly improve esthetics. The most important factor is going to a dentist who has an interest in cosmetic dentistry understands the importance of having your teeth look real.
It is very difficult to tell a dental crown from a natural tooth, and usually only dentistry professionals can tell the difference by close examination. Dental crowns look and feel like a regular tooth. Some crowns may cause some minor tooth sensitivity because many are made from metal alloys. Your dentist and the lab will ensure that the crown fits well, restores aesthetics and ensures that the crown does not interfere with your bite.
Continue Learning about Dental Crown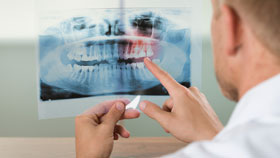 A dental crown is a covering that fits over your existing tooth to make it look and feel like a normal tooth. Crowns are often placed when a tooth is cracked or has lost its structure so that it can't hold a filling.