Before getting a cantilever dental bridge, be sure to tell your dentist if you have any health problems such as diabetes, high blood pressure, heart disease, or a bleeding disorder. If you are pregnant or think you might be pregnant, tell you dentist. In addition, tell your dentist about any medications you take, including nonprescription drugs such as painkillers or allergy medications, and especially any drugs that thin the blood. Also tell your dentist if you have any allergies to drugs.

Continue Learning about Dental Bridge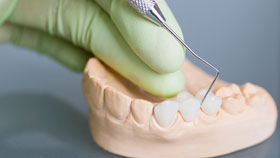 A bridge (also called partial dentures) replaces missing teeth with artificial teeth and literally bridges the gap where one or more teeth may have been. Without a bridge, your other teeth can slowly shift out of their natural pos...
ition, leading to potential future problems with your bite.
More