Does insurance cover a cantilever dental bridge?
Yes, no and maybe.

Crowns, if covered, may be considered under basic or major categories, while bridges, including cantilever bridges, are considered are major service. Major services are often covered at a 50% benefit level. Also, some plans may only cover diagnostic and preventive services. Annual maximums, deductibles, frequency limitations and other restrictions may also affect coverage.

As with many dental services when you have a dental plan, it is often best to predetermine treatment for an estimate of your out-of-pocket costs.

A cantilever dental bridge may be covered by some dental insurance companies. It all depends on how many teeth are crowned and which tooth is cantilevered. You need to discuss the treatment with your dentist and have his or her office submit the intended procedure to your dental insurance company ahead of time to determine how much will be covered.
Continue Learning about Dental Bridge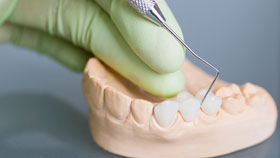 A bridge (also called partial dentures) replaces missing teeth with artificial teeth and literally bridges the gap where one or more teeth may have been. Without a bridge, your other teeth can slowly shift out of their natural pos...
ition, leading to potential future problems with your bite.
More