Excellent question.

What is the condition of the supporting teeth? How many teeth and missing teeth are involved in the bridge? What materials are to be used? Will the teeth require root canal treatment or gum therapy prior to making the bridge? Are there nearby teeth that must be considered for treatment due to esthetic changes to be made with the new bridge? There are many questions to be asked prior to answering the question of cost, and all of these factors must be discussed with the dentist prior to initiating treatment.

Fees for any dental service may vary depending on where you live or where your dentist is located (area of country, urban, suburban, center of town, etc.). In addition there are always going to be a range of fees for the same service. This may depend on the experience of the dental practitioner, materials used, esthetic demands of the procedure and complexity of the treatment or procedure.

You may be able to find average fees for dental treatment in your area, but as with most other things just because a product or service may be the cheapest, does not necessarily mean it is the best. Also, you must feel confident in the dentist providing your care.
The cost of dental bridges vary by the number of teeth missing, the demographics of the area you live, your insurance coverage and the materials used to make the bridge. Hope that helps.
The cost of a dental bridge varies quite a bit. It depends on the type of bridge you need, how much preparation work needs to be done in your mouth so the bridge will fit right, and how many visits you will need to make adjustments to the bridge. The cost also varies depending on where in the country you live. If you have dental insurance, it will usually pay for some of the cost. You may be able to get a bridge at reduced cost by having the work done at a dental school.
Continue Learning about Dental Bridge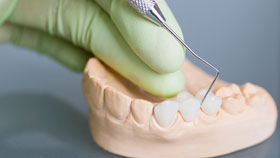 A bridge (also called partial dentures) replaces missing teeth with artificial teeth and literally bridges the gap where one or more teeth may have been. Without a bridge, your other teeth can slowly shift out of their natural pos...
ition, leading to potential future problems with your bite.
More