Good oral hygiene is the best way to reduce your risk of complications after getting a Maryland bonded dental bridge. Brush your teeth twice a day and floss daily to help prevent tooth decay and gum disease. Your dentist or dental hygienist will teach you how to floss under your bridge and brush the surrounding teeth.

Continue Learning about Dental Bridge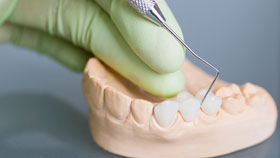 A bridge (also called partial dentures) replaces missing teeth with artificial teeth and literally bridges the gap where one or more teeth may have been. Without a bridge, your other teeth can slowly shift out of their natural pos...
ition, leading to potential future problems with your bite.
More